CATEGORIES
LATEST NEWS
CONTACT US
ADD: 1F Junfeng Building, Gongle, Xixiang, Baoan District, Shenzhen, Guangdong, China
TEL: +86-755-33168386
FAX: +86-755-61605199
E-mail: sales@china-gauges.com
> Safety Testing Electrical Device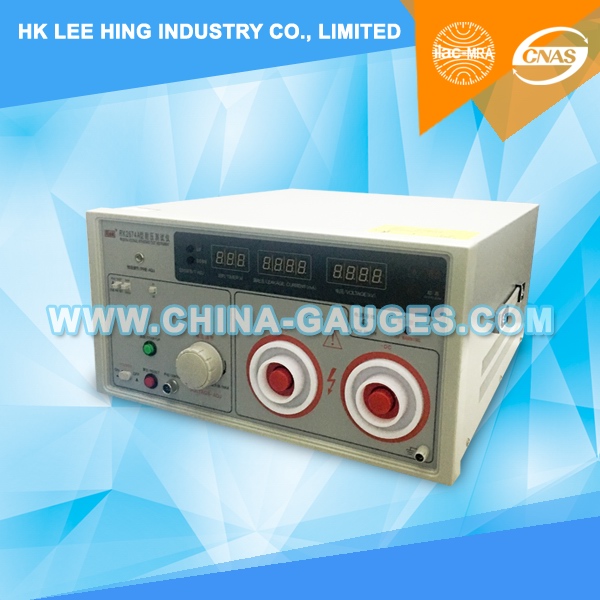 AC/DC:0-20KV; AC:20mA, DC:0-10mA Voltage Withstand Test Instrument
Measurement & Analysis Instruments > Safety Instrument
Include ISO 17025 CNAS & ILAC Test Report
Item No.: RK2674A
Made in China
Product description: This high voltage test (also called dielectric strength test, hipot test, hi-pot test, breakdown test or flash test) is made to stress the device under test to an AC or DC high voltage and check that there is no breakdow
PRODUCT INTRODUCTION
Product introduction:
The RK2674AWithstand voltage tester mainly used for insulation leakage safety test of product. It can test the electrical safety performance index of breakdown voltage, leakage current of which all kind of the measured object intuitive, accurate and fast, and can be used for testing the components and overall performance as a high voltage source.
This series of tester according to the following standards: Standard for household electrical appliances(IEC6035,GB4706.1-2001, GB4706.1-1998),Standard for lamp(IEC60598-1-1999, GB7000.1-2000),Standard for information (GB8898-2001,GB12113.GB4943-2001, IEC60065,IEC60950) and so on.
Application area:
Components: diode, triode, high-voltage silicon stack, all kinds of electronic transformer, connector assembly, high voltage electrical equipment.
Household Electric Appliances: TV, refrigerator, air conditioner, washing machine, dryer, electric blanket, charger etc.
Insulation material: heat shrinkable tube, capacitor film, high pressure tube, insulating paper, insulated shoes, rubber insulating gloves, PCB circuit board etc.
Instruments and meters: oscilloscope, signal generator, DC power supply, switching power supply and other types of machine.
Lighting appliances: ballast, road lights ,stage lights, portable lamps and other types of lamps.
Electric heating appliances :electric drill, pistol drill, cutting machine, grinding machine, electric welding machine etc.
Wire and cable: high voltage cable, optical cable, electric cable, silicone rubber cable, etc.
Performance characteristics:
The output voltage regulated output by the regulator, which has high reliability and high durability.
Using high brightness LED digital displaying test time, voltage, current, it can display the breakdown current value and voltage value in real time.
Alarm current value can be preset arbitrarily.
Test time using three digital tube display
Main Technique Parameter:
Model

RK2674A

Output Voltage (Kv)

AC

0~20

DC

0~20

Output Current (Ma)

AC

0~2/20

DC

0~2/10

Test accuracy

±5%

Test time

(0.0~999)s 0.0=continuous test

Transformer capacity

400VA

Interface of PLC

optional

Power Requirments

AC:220V±10% 50Hz/60Hz

Working environment

Temperature:(0-40)℃ Humidity≦75%RH

Exterior style

Desktop type

Exterior dimension

450×515×230

Weight

35kg

Accessory

High voltage test line, ground wire, power line.
HK LEE HING INDUSTRY CO., LIMITED are specialized in manufacturing special, custom built, test and measuring equipment for products testing as per international norms and offering calibration services and related information. Our products and services are used by research & development establishments, test laboratories, defense establishments, government institutions & manufacturing industries to fulfill the clients' requirements.
Main Products: Go No Go Gauges, IP Tester, Test Probe Kit, Impact Test Equipment, Test Probes, Spring Hammer, IEC 61032 Test Finger, Plugs and Socket Outlet Gauge, AC Hipot Tester, IEC Test Probe, UL Test Probe, Material Flammability Tester, IP Code Tester, Impact Test Apparatus, Security Testing Machine, Lamp Cap Gauge Tester, Lampholders Gauge Tester, Plug & Socket Tester, Electrical Safety Tester, LED Test Instruments, Environmental Test Equipment, Instrument Accessories, Weighing Sensor and More.


If you require equipment to test products such as home appliances, electrical accessories like switches, sockets, connectors, etc. industrial & road lighting luminaires, automobile lighting systems or related categories, we can provide the solutions you need.


We would appreciate your comments on the layout design, presentation or other aspects of our website.

Website: http://www.china-gauges.com

Contacts: Nina She
E-mail: sales@china-gauges.com
TEL: +86-755-33168386
FAX: +86-755-61605199

Phone: +86-15919975191

SKYPE: nina.she@outlook.com
Address: 1F Junfeng Building, Gongle, Xixiang, Baoan District, Shenzhen, Guangdong, China
ZIP: 518102
Website: http://www.china-gauges.com/