1,The rotor of a motor, a pulley, a belt, a gear, a fan, or other moving parts shall be enclosed or guarded to reduce the risk of injury to persons.
2,A fan blade shall be constructed of a material and in such a manner to reduce the risk of its breakage or its release of parts that could cause a risk of injury to persons.
3,The portion of a fan blade that can cause a risk of injury to persons shall be guarded so that the probe shown in test finger probe cannot touch the part when inserted with a force of1 lb(4.4 N) through any opening in the guard.
Exception: This requirement does not apply to a part or portion of a part that must be exposed to enable a heater to perform its intended function.
Technical parameters:
1, Total Length:88.9 mm(3.5 inch)
2, Head Length:25.4 mm(1 inch)
3, Head Radius: R3.2 mm(1/8 inch)
4, Former Head Diameter:12.7 mm(1/2 inch)
5, Tail Diameter:25.4 mm(1 inch)
6, Reference standards UL1278 figure 9.1 (PA160), UL 507 Figure 8.1 (PA160B).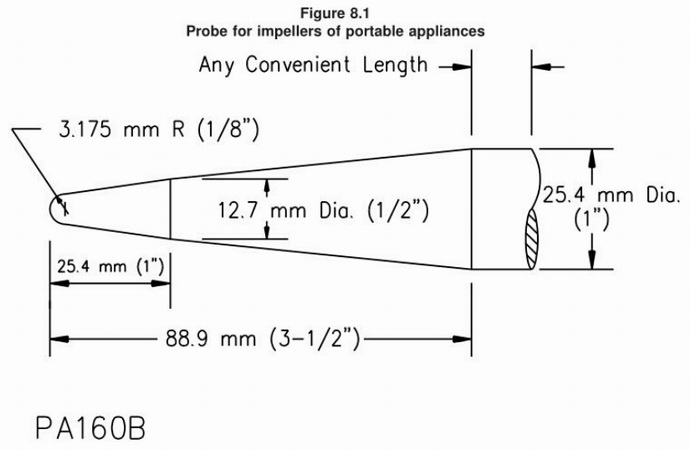 HK LEE HING INDUSTRY CO., LIMITED are specialized in manufacturing special, custom built, test and measuring equipment for products testing as per international norms and offering calibration services and related information. Our products and services are used by research & development establishments, test laboratories, defense establishments, government institutions & manufacturing industries to fulfill the clients' requirements.
Main Products: Go No Go Gauges, IP Tester, Test Probe Kit, Impact Test Equipment, Test Probes, Spring Hammer, IEC 61032 Test Finger, AC Hipot Tester, IEC Test Probe, UL Test Probe, Material Flammability Tester, IP Code Tester, Impact Test Apparatus, Plugs and Socket Outlet Gauge, Security Testing Machine, Lamp Cap Gauge Tester, Lampholders Gauge Tester, Plug & Socket Tester, Electrical Safety Tester, LED Test Instruments, Environmental Test Equipment, Instrument Accessories, Weighing Sensor and More.


If you require equipment to test products such as home appliances, electrical accessories like switches, sockets, connectors, etc. industrial & road lighting luminaires, automobile lighting systems or related categories, we can provide the solutions you need.

We would appreciate your comments on the layout design, presentation or other aspects of our website.

Website: http://www.china-gauges.com

Contacts: Nina She
E-mail: sales@china-gauges.com
TEL: +86-755-33168386
FAX: +86-755-61605199

Phone: +86-15919975191

SKYPE: nina.she@outlook.com
Address: 1F Junfeng Building, Gongle, Xixiang, Baoan District, Shenzhen, Guangdong, China
ZIP: 518102
Website: http://www.china-gauges.com/