Arm Probe for Testing Tortuous Path Guarding of Cutting Means Through the Feed Intake Opening

Conform to the CSA C22.2. Handle is nylon, tip is stainless steel.The adult arm probe conforms to EN 50636-2-100 figure 2 and EN13683-2003: 5.2.1.3 fig 5. It is used to simulate the adult to test whether the hazardous parts can be touched.

It can be used for anti-electric shock test when equipped with amphenol connector.

The arm probe shall not be able to make contact with the hazardous moving parts when it is inserted into the openings up to the entire length of each arm probe. The articulations of each probe shall be manufactured to enable a rotation of ±90°about the articulation axis. The movements of the joints of each probe shall be free enough to allow easy articulation as the probe is inserted into the opening. Each probe shall be applied with force not exceeding 20 N.

The arm probe shall not contact the hazardous moving parts. When the test is conducted with the debris collector in place it shall not be possible to push any part of the debris collector into hazardous moving parts.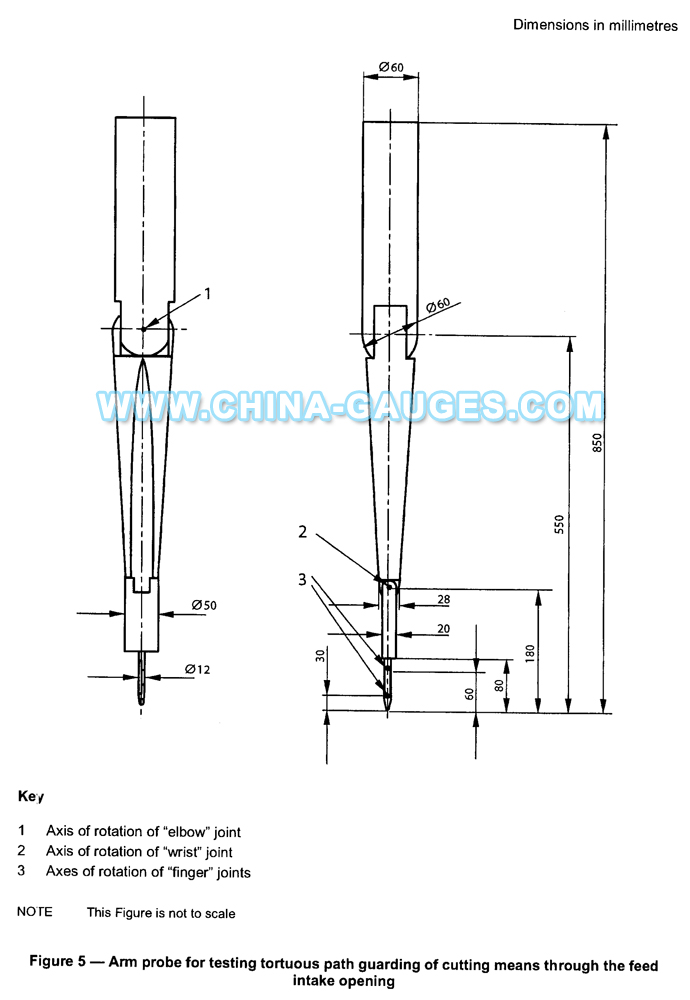 Company introduction
HK LEE HING INDUSTRY CO., LIMITED are specialized in manufacturing special, custom built, test and measuring equipment for products testing as per international norms and offering calibration services andrelated information. Our products and services are used by research & development establishments, test laboratories, defense establishments, government institutions & manufacturing industries to fulfill the clients' requirements.
Main Products: Go No Go Gauges, IP Tester, Test Probe Kit, Impact Test Equipment, Test Probes, Spring Hammer, IEC 61032 Test Finger, AC Hipot Tester, IEC Test Probe, UL Test Probe, Material Flammability Tester, IP Code Tester, Impact Test Apparatus, Plugs and Socket Outlet Gauge, Security Testing Machine, Lamp Cap Gauge Tester, Lampholders Gauge Tester, Plug & Socket Tester, Electrical Safety Tester, LED Test Instruments, Environmental Test Equipment, Instrument Accessories, Weighing Sensor and More.


If you require equipment to test products such as home appliances, electrical accessories like switches, sockets, connectors, etc. industrial & road lighting luminaires, automobile lighting systems or related categories, we can provide the solutions you need.

We would appreciate your comments on the layout design, presentation or other aspects of our website.

Website: http://www.china-gauges.com

Contacts: Nina She
E-mail: sales@china-gauges.com
TEL: +86-755-33168386
FAX: +86-755-61605199

Phone: +86-15919975191

SKYPE: nina.she@outlook.com
Address: 1F Junfeng Building, Gongle, Xixiang, Baoan District, Shenzhen, Guangdong, China
ZIP: 518102
Website: http://www.china-gauges.com/