In A Nutshell
The IP Code is an international standard that rates a product's protection against intrusions by water and foreign particles.
The chart below gives a detailed breakdown for each individual IP Code numeric rating. The solid particle protection is always the first number and the moisture protection is always the second. To illustrate, a product rated IP57 would be dust resistant and waterproof up to 1 meter. A product rated IP68 is completely dustproof and waterproof.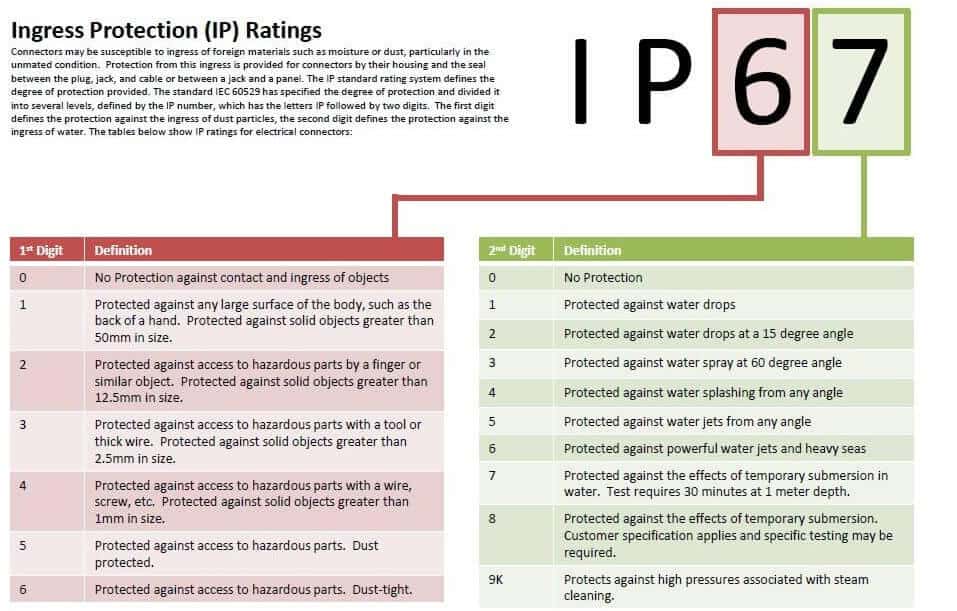 IP Code Basics

Consumers on the hunt for waterproof or dust proof electronics will want to familiarize themselves with the IP Code. An IP ranking provides much-needed clarity in a market saturated with meaningless jargon and misleading advertising. While an IP ranking is not a guarantor of a product's overall quality, it adds transparency by assessing what level of protection a product offers. A variety of consumer products, ranging from earphones to tablets, now display an IP ranking to advertise durability. Those who are familiar with the IP code have a powerful tool with which to make informed purchases of ruggedized electronics.

IP stands for International Protection Marking, or Ingress Protection. It is an international standard used to define the levels of sealing effectiveness of electrical enclosures against intrusions by substances like dirt, water and tools. In other words, it tells you what a product's casing will keep out.

An IP classification is determined by the International Electrotechnical Commission (IEC), a non-profit, non-governmental international standards organization formed in 1906 and headquartered in Switzerland. Composed of a coalition of electrical engineers, academics and industry experts, the IEC is the world's leading organization dedicated to "electrotechnology" standards, a broad catchall term for electronic technology. They establish world-wide quality standards for electrotechnologies. Currently, 82 countries participate in their program.

An IP code rates the degree of protection a product has against dust, accidental contact and water. The code is displayed as IP followed by two numbers, such as IP67. If either numeral is represented by an "X," it means the product has not been tested in that category. It does not equate to a ranking of 0, but it does not guarantee any protection.

Solid Particle Protection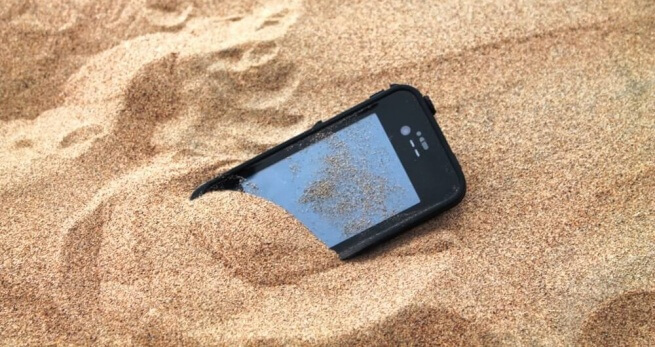 The first number in the IP rating signifies a product's level of protection against access to hazardous parts and ingress (access or entrance) of solid foreign objects. Solid protection is ranked on a scale of 0 to 6. A ranking of "0" means the product has no protection against solid objects, nor way to prevent them from entering.

Rankings 1-4 represent how resistant an object is to entry by foreign tools, ranging from fingers to fine tools. This is an important safety ranking that assesses protection against accidental contact with charged electricity. An IP3X is the minimum ranking you would want if you have children or pets around, and an IP4X protects against foreign contact for grain-sized and larger objects.

A rating of a IP5X or IP6X assesses a product's protection against hazardous dust or other fine particles like sand. These are the two most common Single Particle Protection rankings, and they tell you how well a product keeps dust out of electronic components.

IP5X means a product is protected against dust. Dust entry is not entirely prevented, but significant protection of dust assures the product can operate in sandy conditions. A ranking of 5 is sufficient for most consumer-grade uses.

A rating of IP6X means the product is completely dust tight and there is no ingress of dust. Contractors and those traveling to extremely dirty or dusty locations prefer products with an IP6X rating.

Liquid Ingress Protection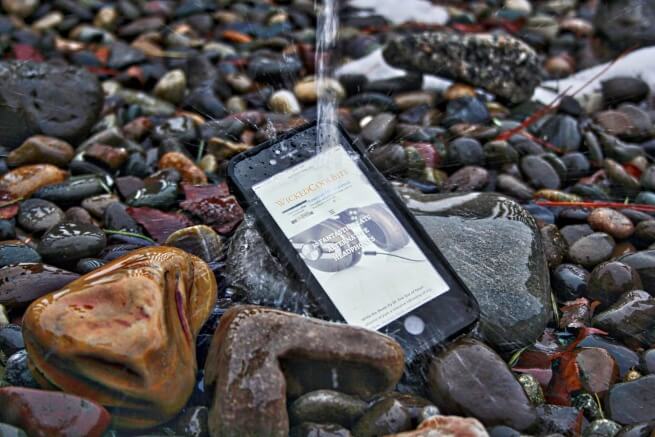 The second digit in an IP code indicates moisture protection. It can range from 0 (no protection) to 8 (completely waterproof in depths over 1m).

Many products advertised as waterproof are not intended to be submerged in water for any prolonged period of time. A ranking of 1-4 means that a product will operate if exposed to water (from splashing or dripping), but will not work under water. This is common for shower radios, outdoor speakers and kitchen appliances.

IPX7 and IPX8 indicate a product will operate while fully submersed in water for an extended period of time. These electronics are rated for depths of less than and greater than 1 meter, respectively. The manufacturer should specify exactly what distance this safety is assured to, so it is important to double check before taking your electronic underwater.

An IPX5 and IPX6 mean that the product can resist jets of pressurized water. It is important to note that a product rated to be fully submersed in water cannot necessarily survive pressurized water jet.