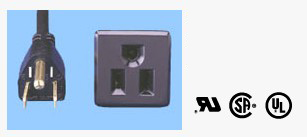 NEMA 5-15P (U.S.), (See map below)
C22.2, No. 42 (Canada), (See map below)
15A/120V/60Hz
These cords utilize the NEMA 1-15, 5-15, 5-20, 6-15, and 6-20P plug standards. In the U.S., these straight-blade plugs are detailed in NEMA (National Electrical Manufacturers Association) publication WD6 and are incorporated into UL 498 by Underwriters Laboratory. Canadian plug and socket standards are outlined by CSA in publication C22.2, No. 42.

The NEMA 5-15P style plug is also used in Mexico, Japan, parts of Korea, Taiwan, Central America, Colombia, Venezuela, Ecuador and on the west coast of South America. The electrical systems in developing countries are usually ungrounded. We does not recommend cutting off the ground pin so that the plug can be mated with a two-pole, ungrounded socket. This eliminates the safety ground connection. We offer ungrounded cords, rated at 2.5A–15A/125VAC. All include UL listing and CSA certification. we also offer other cable sizes and types. Applications include data networking equipment such as power servers, computer data storage systems, and industrial equipment requiring more than the standard 15A/125VAC, but less than 20A/250VAC.

The North American molded hospital-grade power cords and cord sets are designed for use in hospital and medical settings. They carry the characteristic "green dot" on the plug indicating hospital-grade on the plug. The cord sets can be terminated with a variety of IEC 60320 connectors and have a maximum output rating of 15A/125VAC.

Equipment manufacturer's specifying power cords for their equipment should be aware of changes made in 2000 by UL and CSA to two major equipment standards. In an effort to harmonize with equivalent IEC standards, U and CSA made changes to information technology equipment standards. (UL 60950 and CAN/CSA C22.2 No. 60950) and medical equipment standards (UL 60601 and CAN/CSA C22.2 No. 60601).

UL 60950 and CAN/CSA C22.2 number 60950 state that for all new submittals, the ground conductor of power cords must be green/yellow in color. UL 60601 and CAN/CSA C22.2 number 60601 require the ground conductor to be green/yellow and the neutral conductor to be light blue, for power cords on all new submittals. Indications are that UL and CSA may not be rigidly enforcing these requirements and may be making allowances for the use of the traditional North American (BWG) colors. Check with agency officials if you have any questions regarding an application.

In both cases, We recommends the use of BBG/Y (Brown, Blue, Green/Yellow) color coded cable, which is accepted by UL and CSA. Previously, it was necessary for equipment manufacturers to distinguish between North American power cord conductor color coding, i.e. black, white, and green, and the international conductor color coding, i.e. brown, blue, green/yellow. Now equipment manufacturers have a standard color coding scheme. However, both color coding options are available from stock.