CEE 7/7 Plug and CEE 7/5 Socket
16A/230V/50Hz
France and Belgium have a standard socket, CEE 7/5, which is not compatible with the CEE 7/4 plug that is used in Germany and other Continental European countries. The reason for the incompatibility is that the grounding in the French/Belgian socket has a round male pin permanently mounted in the socket.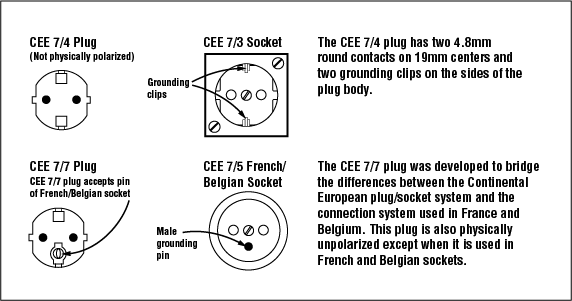 The CEE 7/7 plug is pin polarized when used in the French/Belgian electrical system. Pin polarization means there is a dedicated alignment of pins—there is only one way for the plug to fit into the socket.

There is also another kind of polarization which is called electrical. This means that there is a standardized method of wiring the plug or socket to circuit wires. These wires need to connect correctly to the line, neutral, and ground contact points on the plug and socket. The components mirror the electrical circuit. It is important to note that France and Belgium have no standard for wiring connectors, therefore, there is no electrical polarization.